Trinity Medical WNY, a multi-specialty physician practice network affiliated with Catholic Health, is pleased to welcome Francois Fadell, MD, to its Pulmonology practice located at 1616 Kensington Ave. in Buffalo. Board Certified in Pulmonary Medicine, Critical Care Medicine, and Internal Medicine, Dr. Fadell specializes in treating a wide variety of lung and respiratory conditions, including asthma, COPD, lung cancer, sleep apnea, and pulmonary hypertension.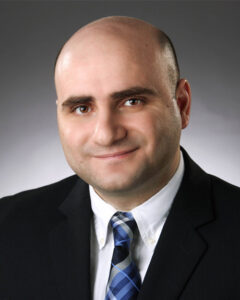 Dr. Fadell received his medical degree from St. Joseph University School of Medicine in Lebanon, and completed his medical residency at Staten Island University Hospital. He completed fellowships in Critical Care and Pulmonary/Respiratory Medicine at SUNY Downstate Medical Center. In addition, he was a visiting fellow of Neurocritical Care at Colombia University and Pulmonary Medicine at Ottawa General Hospital in Ontario, Canada.
"When it comes to building a relationship with my patients, it's important for me to establish trust through open communication and by expressing an empathetic point-of-view," said Dr. Fadell in describing his care philosophy. "I always want my patients to understand their diagnosis and take part in their care plan, so together we are able to achieve the best possible outcomes."
Dr. Fadell is accepting new patients. Appointments can be made by calling Trinity Medical Pulmonology at (716) 834-3278.