Trinity Medical Pulmonology, part of a multi-specialty physician network affiliated with Catholic Health, is pleased to welcome Muzamil Sheikh, MD, FCCP, to its practice.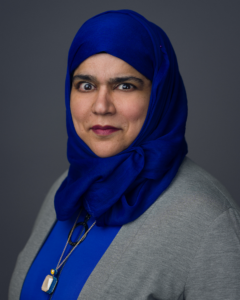 Board certified in pulmonary diseases, sleep medicine, and internal medicine, Dr. Sheikh received her medical degree from Fatima Jinnah Medical University. She completed her internship and residency training at Lincoln Medical and Mental Health Center, Bronx, NY; Weill Medical College, Cornell University, Ithaca, NY; and St. Joseph's Regional Medical Center, Paterson, NJ. She completed fellowships in Pulmonary Medicine at Seton Hall University, South Orange, NJ; and St. Joseph's Regional Medical Center, Paterson, NJ; and in Sleep Medicine at Newark Beth Israel Center, Newark, NJ.
An Assistant Professor of Internal Medicine at the University at Buffalo Jacobs School of Medicine and Biomedical Sciences, Dr. Sheikh treats a wide variety of pulmonary conditions and sleep disorders. She is a member of the American Academy of Sleep Medicine, Society of Critical Care Medicine, and American College of Chest Physicians; and has received awards for achievements in teaching, research, and documentation.
"My focus is on providing compassionate, evidenced-based care while enhancing patient well-being, safety, and clinical outcomes," said Dr. Sheikh. "It is essential that I work toward aligning clinical goals with patient and family-centered care."
Dr. Sheikh is temporarily seeing patients at Mount St. Mary's Health Center, 6000 Brockton Dr., Lockport. She will be transitioning her practice to Lockport Memorial Hospital when it opens this fall at 6001 Shimer Drive. Appointments with Dr. Sheikh can be made by calling 716-297-4800. For more information on Trinity Medical, WNY, its providers and services, visit www.trinitymedicalwny.org.