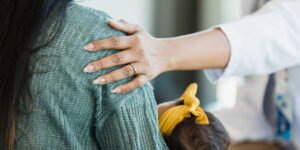 The arrival of a new baby can be an exciting, life-changing experience. It can also be overwhelming and leave you feeling a variety of emotions. For some women, it can lead to a common but serious illness known as "postpartum depression".
Studies by the CDC show about 1 in 8 women, or over 12%, experience postpartum depression. The prevalence of postpartum depression has increased in the past decade, and is more likely to occur in women of color.
WHEN IT'S MORE THAN JUST THE "BABY BLUES"
Stress, anxiety, overtiredness from lack of sleeping, irritability, mood swings, or the "baby blues" are normal after the arrival of a new baby. After all, this is a major life adjustment! A general sense of feeling overwhelmed by these changes is to be expected.
A new baby takes up a lot of your time, which means loss of free time, spending less time with your partner or doing activities you would before your baby arrived. The "baby blues" are very common the first two weeks, but if the sadness and anxiety don't go away, then it could be something more.
New mothers expect a lot of themselves during this time, to be able to take care of the new baby, family and home, all while taking care of themselves. When it becomes overwhelming, women may fear being judged for struggling with daily activities and choose not to seek help from family or their OB/GYN. Lack of resources to get professional help is another barrier many new moms face when dealing with postpartum depression.
DON'T BE AFRAID TO ASK YOUR OB/GYN FOR HELP
It's critical for the health of mothers and their babies that they be open with their OB/GYN or midwife about how they are feeling. With the approval of the new postpartum depression drug, women may have a new option to find relief for their depression symptoms. Previous treatments included therapy and antidepressants, which can take weeks for women to feel the full effects of the medication.
"I am thrilled that the medication has been approved and will be available for mothers struggling with postpartum depression. It can be taken for 7-14 days and has been tolerated well by most mothers. I think that this new medication also brings postpartum depression and anxiety back into the discussion as some new moms tend to hide the fact they are struggling. Women should not be reluctant to speak with their doctor about how they are feeling, and this new medication can help us reach more women who are falling through the cracks because of lack of mental health resources and awareness of postpartum depression."
A NEW TREATMENT OPTION FOR MOMS AND OB/GYNS
Doctors can treat postpartum depression with antidepressants, antianxiety medication, therapy, and a postpartum drug called Brexanolone, which is administered through an IV over the course of 2 days under a doctor or nurse's supervision. Many of these medications take weeks before women see changes, and leaving a new baby and family to get treatment can be disruptive to life at home. With the approval of the first oral medication to treat postpartum depression, called Zurzuvae, we may see a reduction in these barriers that bar certain women from access to postpartum care.
With this new medication, moms can receive effective help faster than before. And while it is a welcomed treatment option, it may not be for everyone. Talk to your OB/GYN to see if the new postpartum depression drug is right for you, or about alternative treatment options.
The OB/GYN and midwifery team at Trinity Medical WNY are well-trained to recognize and treat postpartum depression. We offer comprehensive women's care services, and are dedicated to providing our patients with the best high-quality and compassionate care available in WNY.
Dr. Aronica practices at Southtowns Trinity Medical OB/GYN & Midwifery Care at 550 Orchard Park Rd in West Seneca. If you have OB/GYN-related questions or need care, please call the office at (716) 862-2546.