Trinity Medical Cardiology, a physician practice network affiliated with Catholic Health, is pleased to welcome Wassim Mosleh, MD, to its Williamsville office located at 825 Wehrle Drive. Board Certified in Internal Medicine, Cardiovascular Disease, Echocardiography, Cardiovascular CT, Interventional Cardiology, and Nuclear Cardiology, Dr. Mosleh specializes in treating complex and high-risk coronary artery disease, as well as performing complex structural heart procedures. He treats a wide range of heart conditions, including coronary artery disease, heart valve diseases such as aortic and mitral stenosis or regurgitation, congestive heart failure, and heart rhythm disorders such as atrial fibrillation.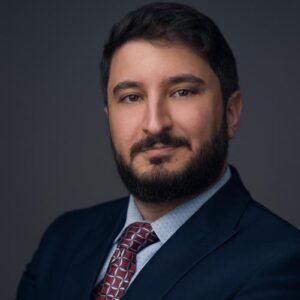 Dr. Mosleh returns to Western New York from Lebanon, New Hampshire, where he completed an Advanced Interventional and Structural Heart Disease Fellowship at Dartmouth-Hitchcock Medical Center and also served as a Clinical Instructor at the Dartmouth College, Geisel School of Medicine. He received his medical degree from the University of Dublin, Trinity College, in Dublin, Ireland, and completed his Internal Medicine Residency at the SUNY Buffalo Jacobs School of Medicine and Biomedical Sciences. He also completed a Cardiovascular Disease Fellowship at the University of Connecticut, and an Interventional Cardiology Fellowship at Banner University Medical Center in Phoenix, Arizona.
"I strive to provide patient-centered care that is deeply rooted in treating individuals as if they were my own family," said Dr. Mosleh in describing his care philosophy. "I firmly believe that patients should be active participants in making decisions regarding their health. By engaging in transparent discussions, my goal is to provide patients with a comprehensive understanding of their condition, available treatment options, potential risks, and expected outcomes."
Dr. Mosleh is accepting new patients and is fluent in both English and Arabic. Appointments can be made by calling Trinity Medical Cardiology's Williamsville Office at (716) 634-3243. For more information on Trinity Medical WNY, its providers, and services, visit www.trinitymedicalwny.org.