Trinity Medical Cardiology, a physician practice network affiliated with Catholic Health, is pleased to welcome Divya Gumber, MD, to its Williamsville office located at 825 Wehrle Drive.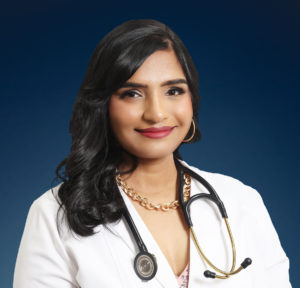 Board Certified in Internal Medicine, Echocardiography, and Nuclear Cardiology, Dr. Gumber specializes in Advanced Heart Failure and Transplant Care. She treats a wide range of heart-related conditions, including coronary artery and valve disease, chest pain, heart failure, pulmonary hypertension, and heart rhythm disorders such as atrial fibrillation.
Dr. Gumber comes to Western New York from Riverside Regional Medical Center in Newport News, Virginia. She received her medical degree from St. Louis University School of Medicine and completed an Internal Medicine Residency at the Cleveland Clinic Foundation. She completed a Cardiology Fellowship at Montefiore Medical Center and an Advanced Heart Failure and Transplant Fellowship at Virginia Commonwealth University.
"I like to take the time to explain the 'why' behind a patient's treatments, prescriptions and diagnostic workups," said Dr. Gumber. "I believe patients have the right to be fully involved in their care and empowered in making their healthcare decisions."
Dr. Gumber is accepting new patients. Appointments can be made by calling Trinity Medical Cardiology, Williamsville Office, at (716) 634-3243.