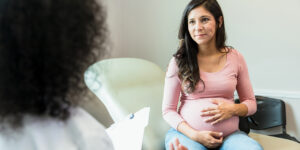 When it comes to family planning, you want to know that both your health and the health of your baby are in the most capable hands. It's natural for expectant parents to have questions and concerns when it comes to deciding if they'd like to see a midwife or obstetrician. Deciding who will care for you during pregnancy, labor and delivery is a very personal decision, so it's important to know your options.
Midwife Misconceptions
Historically, midwives have been pushed out of the picture when it comes to maternity care due to misconceptions or not knowing what services they can provide. Midwives give women access to a variety of care options, and help them feel supported in every aspect of their health journey. Midwife-led deliveries are considered just as safe as physician-led deliveries, so why don't more women seek care from a midwife?
We asked Kristine Sabatino, CNM, to help address some of the most common myths and misconceptions about midwives.
A midwife is the same as a doula.
A doula provides emotional support to mothers during pregnancy and the postpartum period. Unlike midwives, they are not trained to provide medical care. To practice midwifery, midwives must obtain a master's degree from a program that is accredited by the Accreditation Commission for Midwifery Education (ACME). They must also possess certification from the American Midwifery Certification Board, while maintaining active midwifery, nurse, and prescription licenses.
Midwives only deliver in homes.
We are a hospital based midwifery practice. This means we attend birth at the hospital. At the hospital we support all ways of being: Epidural. No epidural. Nitrous oxide use. Birth ball use. Jacuzzi use. Intermittent fetal monitoring. Continuous fetal monitoring. Bottle feeding. Breast feeding. Non-separation of baby and family. Restorative separation of baby and family as desired/as needed.
Midwives can't prescribe medication.
Midwives are licensed to prescribe a full range of medications and treatments, including an epidural.
If I experience complications, there won't be a doctor available to care for me.
Trinity OB/GYN & Midwifery Care is a collaborative practice. This means that the midwife group and the OB/GYN physician group are a team.  If high risk conditions develop throughout pregnancy or during labor our physician colleagues are immediately available to provide their specialized knowledge and surgical skill. This type of care has been proven to be deeply satisfying and promotes safest outcomes.
Midwives only provide prenatal and postpartum care.
Midwives provide a full spectrum of health care services to women through all stages of life. We provide general check-ups, prescribe medications, health screenings, administer vaccinations, order tests, and offer pregnancy, birth and postpartum care.
What would you like women to know about Trinity OB/GYN & Midwifery Care?
I think I speak for everybody at Trinity OB/GYN & Midwifery Care:  We could not be prouder of the practice we have created. Come visit us and see all that we have to offer!
Experienced, Compassionate Caregivers
It's our goal to provide patient-centered care and to make women feel supported and understood. We view every health milestone as a natural part of life, not a medical procedure. From primary care gynecological visits to childbirth services, our focus is delivering high-quality, compassionate care for all.
To learn more about our midwifery services or to schedule an appointment with one of our midwives, please call 716-458-1988.